Today, those great ladies over at
The Secret is in the Sauce
are running an all-day blogathon, complete with fantastic price.
If you don't know about SITS, you're missing out! They scan the blogosphere for some of the neatest, most creative blogs you've not stumbled upon.
If you see this little bug, then you're encouraged to leave a comment (and show your SITSa some love).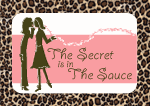 I've found quite a few great SITS blogs that I now read regularly, including:
The Cottage Cafe. She was featured just last week on SITS, and I'm totally knocking off her craftiness, especially these fabulous tags!
Where Are My Angels. This top-notch mom was featured just yesterday, but her stories of parenting her wild children touched my heart. Two of her daughters were born with Downs Syndrome, and she said along the way someone told her that meant they were angels. Hence the name - she wants to know where her angels are! I've just recently met a woman who's daughter has Downs, so this is blog is a great resource in my learning about it.
Cherry's Jubilee. Okay, I'm totally stalking her artsy self! I want to make those sparkly candy corns ... maybe this afternoon. Oh wait, I have two boys - I don't have time to make anything sparkly (unless I want them sparkly too!) I'm also using this as a resource for MOPS crafts, as I'm now the assistant craft lady.
Confessions of an Apron Queen. Now, I don't consider myself funky vintage, but I do love a good apron. Now I want to buy up everything available on Rick Rack Attack!
Pennies in My Pocket. Again, a recent SITS honoree, but her site is full of great deals and steals, plus a question of the day that really makes you stop and think. Oh, and her daughter is completely adorable!
So, stop by The Secrets in the Sauce, get a little saucy, visit some new blogs and maybe win a great prize in today's blogothon! Who knows, maybe one day I'll be the SITSa of the day!